How to Pass ECAT Test Online Preparation Guideline for Higher Marks in Engineering Entry Test
ECAT test is the abbreviation of the Engineering College Admission Test. It is the necessary test to be admitted to all engineering universities. By the online ECAT Test Online Preparation from Gotest.pk students can get easily admission into their universities. Our offered tests are highly effective for the preparation of the ECAT for all universities. Here we are offering ECAT Test Preparation Online through which our visitors can prepare for their exam in the best possible way. Gotest. pk has the important questions, guidelines, and relevant material of ECAT. Now you can meet your success in your desired university with our ECAT test online preparation.
How to Pass ECAT Test Online Preparation Guideline for Higher Marks in Engineering Entry Test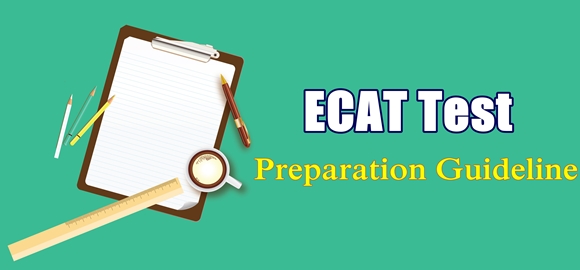 All the worries of students are now at the ending point because we are providing a complete solution guide related to ECAT MCQs.
Guidelines for ECAT Test Online Preparation
First, you should explore the content outline of the exam and also your skills and it is very necessary for the preparation of the ECAT test.
Introduction of any test is necessary so you should know the complete introduction to the exam along with its course o. The Official Guide, in outline online or in printed form and review for preparation
You can prepare yourself for the ECAT test by getting through the ECAT online testing system as many times as you want.

Gotest. pk

 offered various online tests for the convenience of students and by getting through this online testing system students can prepare themselves for MCAT or other exams in a better way.
You can also prepare yourself for the exam through various other resources like textbooks, notes that you prepared during your classes, studying in the library as well as studying in groups.
Continue your study and practice as well, seek out try to find your weaknesses and boost your strengths
All of the above students should make practice as we know that "Practice Makes a Man Perfect".
Best Tips To Get High Marks in ECAT Test According to ECAT Test Online Preparation
The Engineering College Admission Test (ECAT) is administered at the University of Engineering and Technology Lahore in Punjab to allow admission into engineering degrees such as BE/BS/BSc. It is a crucial prerequisite for access to many of the top engineering colleges in Pakistan like UET, GCU, NUML, and NUML.
ECAT is an Mcqs test that is based on Mcqs. The test is split into four parts according to topics:
Mathematics
Physics
Chemistry /Computer Science / Statistics
English.
ECAT Subjects
The MCQs are broken down into subjects according to the following order:
Mathematics (30 MCQs)
Physics (30 MCQs)
Chemistry (30 MCQs) (can be substituted with Computer Science or Statistics)
English (10 MCQs)
Computer Science or Statistics could also replace the Chemistry part of the test if you decide to go for a Computer Science or General Science degree.
ECAT Negative Marking
You have a time limit of 100 minutes to work through 100 MCQs. Each one has four marks. The negative mark (-1) is given to each incorrect answer. In the event that the test is unanswered, you will receive an 0. If you're looking to guess at an issue, it's worth noting that you risk losing one mark if the answer is incorrect, but you have the chance to earn four marks if it's accurate. Be sure to determine your risk in a precise manner.
UET New admission policy for ECAT 2023
UET has recently announced that applicants waiting on answers to their Intermediate Part II are also qualified to take the entry Test. This new policy permits UET to admit students based on scores from the Entry Test Matricor Inter1st Year and O levels. These decisions were taken by justice in the overall picture of students from different backgrounds being given a chance to be admitted to their chosen institutions.
ECAT Test Dates 2023
Ecat 2023 will be held in August on Virtual University campuses. The test will take place on the announced date.
ECAT Deadlines and Dates
Tokens to be used for ECAT are sold at HBL branches at the cost of R. 1200/-. The deadline to print admits cards are given in the advertisement. The final ECAT results will be published via UET's website on the given date
ECAT registration procedure
Applications are only accepted online. Follow these steps for admit cards:
Apply online for the entry test at admission.uet.edu.pk with the details from the token serial number as well as the token number.
Select the most appropriate combination of subjects you want to sign up for. DAE/B. Tech students can select Chemistry or CS as their elective subjects.
Upload a recent passport-sized photo with a light background. This will later be used for the future official record of reference.
Choose the test center and the session time slot closest to you. If seats in the desired location or center fill full, you'll be required to alter your selection.
The admit card will be created instantly.
Required Documents for Registration of ECAT
Photo ID information to be used for ECAT
CNIC/NICO
NADRA Juvenile Card
Photo ID with official photo as shown on the Matric/Inter
Computerized certificate of domicile with an image
Passport
Statement of entry required for CIE background students
If you fail to present a photo ID, it could result in expulsion
ECAT Preparation Material
To get ready for ECAT, we recommend utilizing this test preparation online service.
Time Management for ECAT Test
As time management is the key to success, the only way to achieve your best performance is to practice the test a thousand times before in a very short amount of time. It is not a good idea to walk into the examination hall without being prepared. The most effective way to prepare is by practicing past exams repeatedly. The four subject areas are covered, so this means you have a lot of old papers to study from.
Race Against Time Management
It is advised to adopt an organized approach to this. Be sure to record the measure yourself and compare how you performed against the amount of time given to you. Do you find it difficult to finish the assignment on time? Do you have a subject that you spend too long on? It is important to assess yourself and address your weaknesses.
Subject-Specific Approach to ECAT Test
1-ECAT English Section:
In the English part of the ECAT test, a range of English concepts is assessed. Analogies, sentence completion, synonyms and sentence correction, and comprehension of reading are just a few of the most common kinds. It is essential to prepare for each of these types. Examples of MCQs are available in ECAT preparation books as well as past exam papers. If you can spend a significant amount of time preparing for the ECAT test, it is highly recommended that you begin reading on a regular basis. This could be any publication or book that you like, and it doesn't need to be for long time periods, but be sure you keep it as a regular routine.
2-Tips for ECAT Maths:
In the Maths part, each of the concepts is interconnected and is built on top of one another. If you are faced with a concept that you are unable to grasp, take it seriously and don't dismiss it because you think it won't be tested as much since it could be necessary to answer an issue that is likely to be examined. Be sure to complete your exercises without using a calculator since it is not allowed during the ECAT.
3-ECAT Physics Syllabus:
Below are some of the subjects that will be covered in the Physics part of the test. Pay equal attention to each of them, and concentrate on developing solid concepts.
Measurements
Equilibrium and vectors
Force and motion
Energy and work
Circular motion
Fluid dynamics
Oscillations
Waves
Physical optics
Instruments with optical lenses
Thermodynamics and heat
Electrostatics
Current electricity
Electromagnetism
Electromagnetic induction
Alternating current
Physics of solids
Electronics
The dawn of the new Physics
Atomic spectrum
Physics of nuclear radiation
4-ECAT Chemistry Topics:
These are the subjects that will be assessed in the chemistry section that will be tested. The concepts that you learn provide the foundation for more advanced topics. Do not think of studying selectively.
Basic concepts
Chemical experiments using experimental techniques
Gases
Solids and liquids
Atomic structure
Chemical bonding
Thermochemistry
Chemical equilibrium
Solutions
Electrochemistry
Reaction kinetics
Classification of elements according to periodicity and periodicity
S-block elements
Group IIIA and IVA elements
Group IV-A and VIA-A elements
The noble gases
Transition elements
The fundamental principles of organic chemistry
Hydrocarbons that are aliphatic
Aromatic hydrocarbons
Alkyl halides
Alcohols. Phenols and Ethers
Aldehydes and ketones
Carboxylic acid
Macromolecules
Chemical industries that are common in Pakistan
Chemicals in the environment
For More Helpful Material Check:
FAQs for ECAT Test Online Preparation
Q: How long is the validity time for ECAT exam scores?
A: Your scores are applicable only to the cycle of admission that you take the test for. You won't be able to use them in future admissions cycles.
Q: Do you see the negative markings on ECAT? ECAT test?
A: There are 100 marks. Each right answer is worth 4 points. But, incorrect answers can also result in negative marks of 1.
Q: What are the eligibility criteria for acceptance to the ECAT test?
A: Candidates who meet the following qualifications are eligible to be considered for the position:
Inter Pre-engineering, or other equivalent certification from a foreign
Intermediate with Physics and Maths along with CS or Statistics as a 3rd subject and equivalent international degree
Premedical intermediate or equivalent foreign degree
DAE, B.Sc (Eng.) Technology or an equivalent examination
Q: What are the documents required to take part in ECAT tests?
Documents like These are required:
Awarded domicile with the most recent picture
Photocopy of the original computerized CNIC as well as computerized form B
Photocopy of the sheet with mark
Photographs of all exams and the diplomas that the candidate has completed
6 recent passport-sized pictures
IBCC Equivalence certificates are issued to students who hold a foreign diploma
Q: Are there seats that are reserved exclusively specifically for non-native Pakistanis?
A: Yes.
Q: What are the documents required to apply for seats open to foreign nationals?
Documents like these are required:
A certified photocopy of the resident visa of the guardian of the applicant issued by the Pakistani Embassy of the concerned country
Employment certificate of the Guardian (on Form-VIII) issued through the Pakistani Embassy of the country in question.
Q: Are electronic or stationery items not allowed during the test?
The rule is that calculators and mobile phones will not be permitted.
Q: How do I apply for ECAT?
Application forms are available on the UET website, as well as directly from the university.
Do you think Engineering from UET is an excellent idea?
Answer: UET is well-reputed; however, before deciding on the most important aspect of your future, you need to be aware of your strengths and weaknesses. are. Try our no-cost career compatibility test here.
You Can Learn and Gain more Knowledge through our Online Quiz and Testing system Just Search your desired Preparation subject at Gotest.