Naya Pakistan Housing Scheme 2023 Registration Form Download Online
The Government of Pakistan is on to launch the first phase of Naya Pakistan Housing Scheme for the low income and homeless Pakistanis. For this purpose government of Pakistan has started its Phase 1st with help of NADRA because from the NADRA Database it will be much easier for the Government of Pakistan to recognize the poor and homeless Pakistani Nationals. The registration for the Prime Minister Naya Pakistan Housing Scheme has started.
The government aim to build five million homes in five years. The low cost houses project will be initially launched in seven districts including Sukkur, Quetta, Gilgit Balistan, Muzaffarabad, Swat, Islamabad and Faisalabad with cooperation of National Database and Registration Authority to collect date for housing needs of the people. Addressing the launching ceremony at the PM Office, he announced that the government would provide the land, facilitate and remove bottlenecks and work under public-private partnership to construct housing units with all basic amenities.
Naya Pakistan Housing Scheme 2023 Registration Form Download Online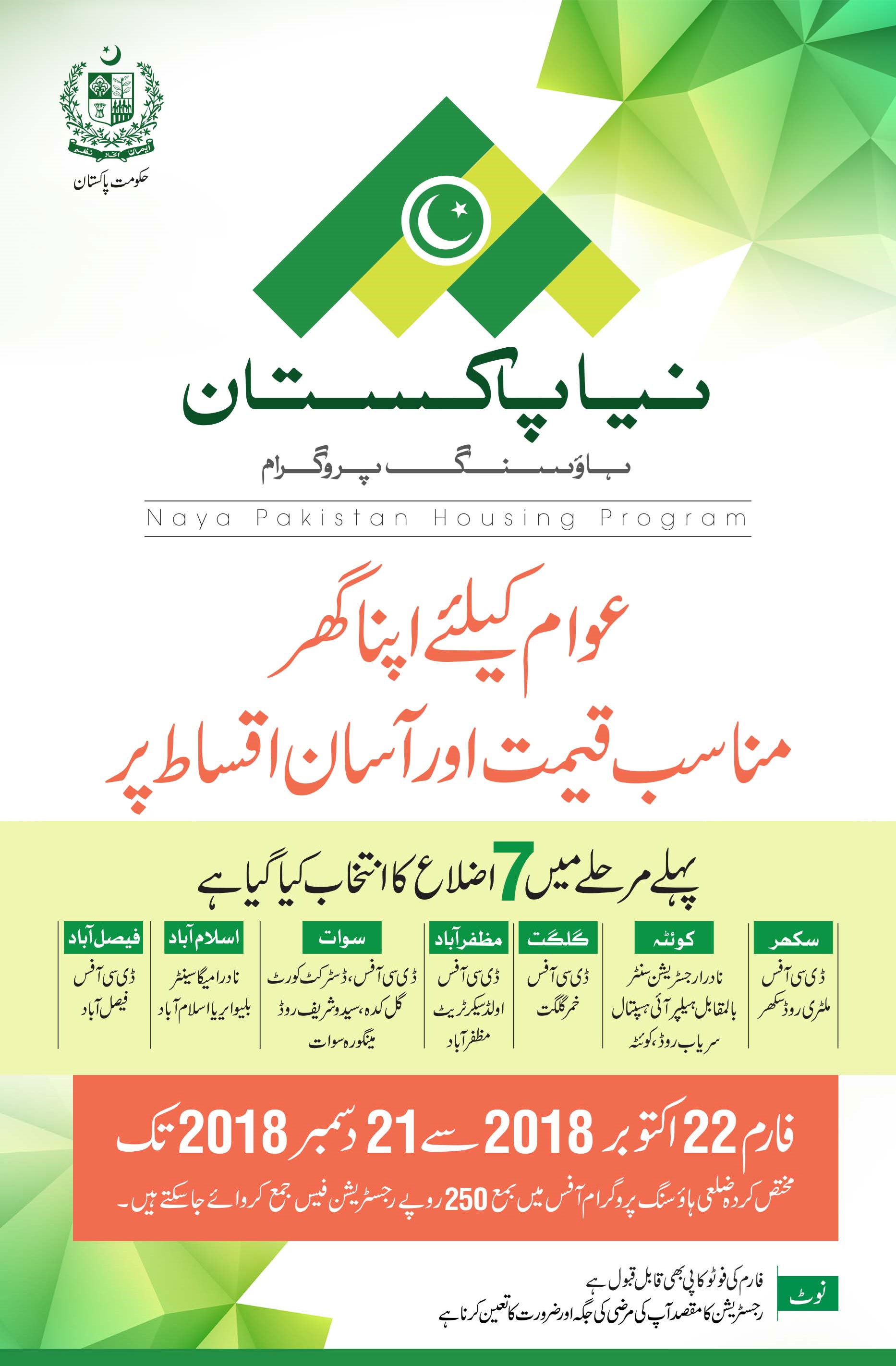 "We want to build houses for those who ordinarily do not even dream of owning a house, as they fall in low-income group and barely manage to find a shelter," Imran Khan said.
The applicant can download the form online form NADRA's website. Which can then be submitted within two months from October 22 to 21 December 2023 along with a registration fee of Rs250 for selected district offices. The form is divided into 11 heads which cover the aspirant's name Computerised National Identity Card (CNIC) and mobile number, profession, current residence, monthly income, preferred installment plan, number of expected residents, residential address for registration, and declaration.
A Flagship Project
Prime Minister Imran Khan has unveiled his government's flagship project  Naya Pakistan Housing Programme – ensuring the provision of five million low-cost houses for underprivileged classes during the next five years. Khan is optimistic that the successful implementation of the programme would not only boost the country's economy but create immense job opportunities as well.
According to the programme, the government would provide the required land for the project and play the role of a regulator and facilitator to address bottlenecks to ensure enabling environment through the one-window facilitation centre for public and private sectors and non-profit organizations who would execute the project.
Eligibility criteria:
Only one person per family (husband, wife and children ) is eligible to apply in this scheme.
Preference will be given to candidates who do not own any independent residential unit in Pakistan.
The homes are to be made for the common man, who earns Rs10,000-25,000 a month.
PKR 250 per form should be deposited along with this registration form.
Based on the data collected from these forms, housing specification including design, price and site will be decided for the applicants.
How to Apply:
Interested individuals may get Registration Form Online from the official site of NADRA such as nadra.gov.pk/nphp.
If anyone faces any problem in downloading the registration form online then he/she can have Registration Form from the prescribed District Housing Program Office and detail of these can be examined from the above.
Photocopy of Registration Form is also acceptable.
Duly filled Registration Form with Registration Fee Rs. 250/- can be submitted to the Relevant District Housing Program Office located in (Sukkur, Quetta, Gilgit, Muzaffarabad, Swat, Islamabad, Faisalabad).
The registration process will start from October 22 to December 21, 2023.
Keep visiting our site for further updates about Naya Pakistan Housing Scheme will be available here soon.
Office where Form can Submitted:
Address for Sukkur: DC Office Military Road, Sukkur.
Address for Quetta: Nadra Registration Centre In-front of Helper Eye Hospital Sariab Road, Quetta.
Address for Gilgit: DC Office Khomer Gilgit.
Address for Muzaffarabad: DC Office Old Secretariat Muzaffarabad.
Address for Swat: DC Office, District Court Gulkada, Syeda Sharif Road, Mingora, Swat.
Address for Islamabad: Nadra Mega Centre Blue Area, Islamabad.
Address for Faisalabad: DC Office Faisalabad.
You Can Learn and Gain more Knowledge through our Online Quiz and Testing system Just Search your desired Preparation subject at Gotest.