Join Pakistan Army for Girls and Women Complete Guide Step by Step
Pakistan army not only provides opportunities for men to join it but women can also be a part of the Pakistan army at any level depending on induction requirements in Pak Army. Women are given much prominence and prestige in Pak Army as men. Every year lots of women join Pak Army on a merit basis. In Pakistan Army, there is an organized system of promotion and increment for women.  Officers are promoted through a standard procedure of rules and regulations. Upon successful completion of all the tests and interview, a female candidate can get many facilities. They are given training at armed academies. They can get such an environment where they groom themselves professionally, morally, educationally, mentally, and physically.
Personality traits of women officers are developed and there are equipped with the highest ideals of loyalty, honor, courage, and dedication. Join Pakistan Army for Girls and Women Here I would like to mention that how women can join and serve in Pakistan Army. Every year Pak army announces female induction in which women can apply and be a part.
Join Pakistan Army for Girls and Women Complete Guide Step by Step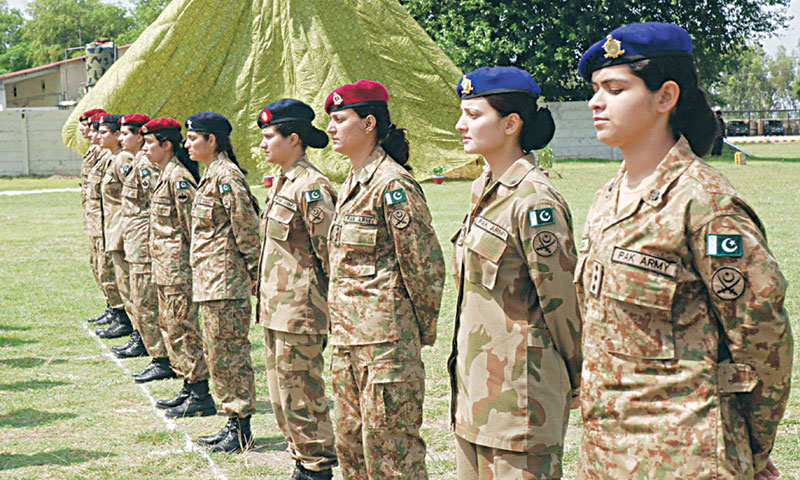 Women can join Pak Army in three ways:
1. Through Regular Commission in Armed Forces Nursing Service (BSc Nursing)
2. As Captain/Major through Short Service Regular Commission
General Duty Medical Officers (GDMOs) as Captains
Classified Specialists (Specs) as Major

Anesthesiology (HPG) (Male/Female)
Pathology (HPG) (Male/Female)
Radiology (HPG) (Male/Female)
Basic Medicine Sciences (Male/Female)
Gynecology (HPG) (Female)
3.     As Captain through Direct Short Service Commission:
Corps of Engineers (Engrs) Female
Corps of Signals (Sigs) Female
Corps of Ordnance (Ord) Female
Army Services Corps (ASC) Female
Corps of Electrical & Mechanical Engineers (EME) Female
Information & Computer Technology Officers (ICTO) Female
Registration for women in Pak Army:
Women candidates register in Pak Army either through the internet or by visiting Army Selection and recruitment centers. The following procedure is adopted:
Registration through Internet
A female candidate can register on the website www.joinpakarmy.gov.pk  Date and time of the test shall be intimated on the internet for which the individual should have an e-mail account. The candidate will have to report on the exact date and time given for preliminary tests and interviews on a computerized roll number slip. The date once given will not be changed. The candidate will have to bring all the documents and will pay the prospectus fee on the day of the test. Candidates must have a working knowledge of computers as all the tests will be conducted on a computer.
Registration at AS & RCs:
The candidate will report to the nearest Army Selection and recruitment centers along with all the necessary documents and the prospectus fee for completion of registration formalities.  The candidate will have to bring these documents on test day also.
You Can Learn and Gain more Knowledge through our Online Quiz and Testing system Just Search your desired Preparation subject at Gotest.