My Hobby Essay with Outline and Quotations
My Favourite Hobby Essay English for All Classes in 100-2000 Words
In this article, I will be sharing an English essay on my hobby along with relevant quotations suitable for students of all classes. This essay holds great significance, especially for FSC 2nd Year and Graduation examinations. Additionally, there is a shorter essay at the end specifically designed for weaker students, encompassing 200+ words on my favorite hobby, gardening. Furthermore, you can explore additional English essays on various topics.
For students, this essay can also be written under alternative titles such as "Essay on My Hobby," "Essay on My Pastime," "Essay on My Leisure Time," or "Essay on My Favorite Hobby." As FSC Part 2 students, it is recommended to visit the sections dedicated to Essays with Quotations and English Essay Quotations.
My Hobby Essay Outline:
Introduction: A hobby is a pursuit followed for pleasure. Since most of the people do not get the jobs of their liking it is very important to pursue hobbies.
Kinds of hobbies: Any pursuit capable of giving one pleasure can become a hobby. Stamp collecting, autograph collecting, photography, music, rambling in the countryside are some of the popular hobbies.
Basic Principles for the selection of hobbies: (a) A hobby should not become a passion. (b) It should be within one's means. (c) It should not be an absurd, idle pursuit. (d) It should not be allowed to distract a person from discharging his personal obligations.
Conclusion: Hobbies are not as popular in Pakistan as in the West.
My Favourite Hobby Essay 10 Lines (100 – 150 Words) for Class 3th,5th
Like many others, I have a hobby, and mine is gardening.
Gardening brings me joy because I have a deep love for nature.
At my home, I have a small garden that I take care of attentively.
In my garden, I cultivate both flowers and vegetables.
It fills my heart with delight to observe my plants gradually growing.
Every evening, I make it a routine to water the plants in my garden.
The vegetables I harvest from my garden are incredibly tasty and fresh.
I dedicate most of my free time to being in my garden.
My family members also assist me with various gardening tasks.
The lush greenery in my garden brings me a sense of peace and happiness.
Essay on My Hobby-Dancing (200-250 words)
Introduction:
Each person possesses their own unique hobby, and it is possible for an individual to have one or even multiple hobbies. A hobby is an activity that brings joy and interest to one's day. In this essay, I will share my favorite hobby, which is dancing. In today's fast-paced world, it can be challenging to find time for ourselves amidst our busy schedules.
My Hobby Dancing:
Dancing is the art of moving to the rhythm of music, expressing oneself through a series of steps. When our feet feel the vibrant beats of music and our hands try to synchronize with the rhythm, a beautiful form of dance emerges. However, describing dance in words is not an easy task. Dance, in my opinion, is a feeling that showcases various cultures and traditions. I find immense pleasure in learning about different traditions through dance. For me, dance is the perfect way to utilize my leisure time.
Conclusion:
Dancing is a wonderful hobby to pursue. It not only allows us to enjoy our leisure time but also keeps us physically active and fit. For me, dancing brings immense joy and serves as a source of personal fulfillment. It is a truly enriching experience, and that is why I love to dance.
My Favourite Hobby Essay – Reading Books for 6th to 8th Class (500 Words)
Introduction: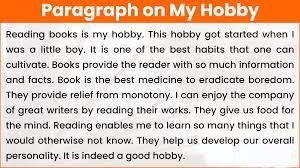 A hobby is a source of passion that keeps us engaged and enthusiastic. It can take various forms, such as singing, dancing, or in my case, reading books. Ever since I was a child, I have found solace in immersing myself in novels and stories. Reading books has become my beloved hobby, providing me with relaxation and an escape from the pressures of daily life.
The Magic of Books: Books have a way of captivating me like nothing else. I cherish the moments when I can delve into a world of words and let my imagination soar. Reading novels transports me to different places, times, and experiences. Whether I'm at school, home, or visiting relatives, a book is always my constant companion. While some may consider me a "bookworm," reading truly brings me a sense of peace and contentment, easing the burdens of the day.
Books as Inspiration: One of the magical aspects of reading is how books can inspire and influence us. Each book I read has the power to shape my perspective and fuel personal growth. When I immersed myself in Jane Austen's "Pride and Prejudice," I found myself emulating the strength and determination of the character Jane. Similarly, while reading "Harry Potter," I couldn't help but identify with the protagonist and adopt some of his traits. Books have a way of molding my personality and helping me become a better version of myself.
A World of Endless Possibilities: Throughout my life, I have devoured over 2000 books, exploring a wide range of genres and themes. I don't limit myself to a particular genre; instead, I value the essence and power of words within each book. One of the joys of reading as a hobby is the intoxicating scent of new books and the satisfying sound of crisp pages turning, ushering me into the next chapter of the story.
Journeying Through Books: One of the reasons I adore reading so much is the ability to travel through books. While I may not have the means to travel frequently, books allow me to embark on extraordinary journeys. I can wander through the Mediterranean islands or bask in the sun-drenched beaches of Florida. Through the pages of a book, I can traverse different centuries, living the lives of nobles, or even see the world through the eyes of princes and princesses. Each book offers me a private escape and leaves me feeling transformed.
The Power of Knowledge: Reading provides me with a wealth of information that expands my mind and equips me to face life's challenges. I acquire insights and knowledge that others may be unaware of, making me feel prepared and confident. Books are not merely a way to pass the time; they have become an integral part of my life.
Nurturing the Passion: Recognizing my early passion for reading, my father gifted me a membership to our city's library. Now, I visit the library every week, sometimes even twice, to borrow my favorite books and indulge in my passion for reading. What was once a hobby has transformed into a true passion that I wholeheartedly embrace.
Conclusion:
Reading books is not just a pastime for me; it is a passion that brings me joy, knowledge, and inspiration. Through books, I embark on endless adventures, explore diverse perspectives, and nurture my imagination. The enchanting world of books has become an integral part of my life, shaping me into a more enlightened and fulfilled individual.
My Hobby Essay in English for Matric to Graduation in 1000-2000 Words
Introduction:
A hobby is a pursuit followed for pleasure, not for profit. With the problem of unemployment so aggravated, it is often difficult to find a job to one's liking. In such a case, one can satisfy one's natural craving in a side pursuit. But even if one finds one's job absorbing and fruitful. The necessity of a hobby is not eliminated. Variety is said to be the spice of life.
A hobby provides one with a welcome change. When one is back home after a strenuous day with an exhausted and jaded mind, one's mind is enlivened by a hobby. It is an occupation in which one is one's own master, no terms are dictated; no restrictions are imposed. If one succeeds, it is so pleasant and heartening; if one does not, it hardly matters.
There is no end to the kinds of hobbies. Stamp collecting seems to be one of the most popular and universally practiced hobbies. Students derive great pleasure from it. Autograph collecting is another favorite. It provides opportunities to meet great people. It also helps people to cast off their shyness and approach great men. However, once when I approached a great dramatist to get this autograph, he wrote in my autograph book – getting autographs is a sign of adolescence. I felt so flushed, I have never again asked anyone for his autograph. Fishing is yet another on popular hobby. Nevertheless, it is a hobby essentially of the reflective or imaginative mind. One can sit for hours near a tank or a rivulet, with rod or line in hand, lost in the paradise of one's own creation. Rambling in the countryside is a very refreshing pursuit. It helps to restore man's ties with nature, which stand almost snapped. Besides, it can prove highly educational. Someone with well-developed creative faculties can make decorative pieces with the odd knick-knack available in the house. One of my friends has made the Minar-a-Pakistan purely from empty penicillin vials. Another one makes beautiful decorative wall plates with empty cigarette packets. Then there are gardening, horse-riding, reading favorite authors, photography, painting, music coin or insect collecting, hitch-hiking and so on. In fact, hobbies can be multiplied and infinitum.
Some of the hobbies can be quite ridiculous too. One of my friends has the hobby of collecting discarded tins and bus cartons, and empty bottles. Another one is interested in collecting the small confectionery wrappings. Still another one's hobby is to collect a variety of cigars. Great men too have hobbies. They derive considerable personal pleasure from their pursuits but their hobbies are motivated by some other consideration too. A politician may turn to a science laboratory or a priest may take to dramatics purely for relaxation and still produce remarkable results.
A few basic principles ought to be observed in the selection of hobbies. A hobby should of course be an absorbing source of pleasure. But it should be pursued as a hobby only. It should not be allowed to become a passion or an obsession. Nor should it be allowed to interfere in one's professional life. Secondly, it should be within one's means. It should not be expensive that it starts draining one's financial resources. Photography and record – collecting have become luxuries. If one can afford them. They are highly satisfying. But there can be equally satisfying inexpensive hobbies to-reading, writing or painting, for example. Painting or writing can even be made a source of income. Thirdly, hobbies should not be absurd, idle pursuits. They should serve some useful purpose. There is palmistry, a fascinating and educational study. There is gardening to provide physical exercise as well as fresh vegetables and colourful flowers. Finally, hobbies are purely personal affairs. They should not be allowed to distract one from one's domestic and social obligations.
Hobbies are very popular in the west. It is a common saying that Every Englishman rides a hobbyhorse. But Pakistanis do not fully realise the importance and advantage of such a pursuit. Our most popular hobby seems to be gossiping. Ladies, in particular, hold coffee-cum-mud flinging sessions in the afternoon. How light and relaxed they feel after a two-hour long character dissection of their neighbours. One who is strained in his professional life feels the need of relaxation. Since many of us do not take their jobs seriously, they are mostly in a state of idle relaxation.
My Hobby Essay Quotations
"Hobby is an activity that you do for please when you are not working."

(Oxford Dictionary)

"A hobby a day keeps the doldrums away." (Phyllis McGinley)
"A hobby is hard work you wouldn't do for a living." (Ralph Waldo Emerson)
"I sit in my garden, gazing upon a beauty that cannot gaze upon itself. And I find sufficient purpose for my day." (Robert Brault)
"A hobby a day keeps the doldrums away."

(Phyllis McGinley)

"It's the safety valve of middle life and the solace of age. (Mary Roberts)
"Beauty is truth, truth beauty___ that's all.
Ye know on earth, and all ye need to know." (John Keats)
''A hobby is an Alternative mental interest."
"I will be the gladdest thing
under the sun!
I will touch a hundred flowers
and not pick one."
(Edna St. Vincent)
"A thing of beauty is a joy forever,
Its loveliness increases; it will never,
Pass into nothingness."


(John Keats)
Conclusion for My Hobby Essay
Hobbies are a great way to improve your quality of life. They can help you relax, learn new skills, and connect with others. If you are looking for a way to add more enjoyment to your life, consider picking up a hobby. There are endless possibilities when it comes to choosing a hobby, so take some time to explore your interests and find something that you are passionate about. With a little effort, you can find a hobby that will enrich your life in many ways.
You Can Learn and Gain more Knowledge through our Online Quiz and Testing system Just Search your desired Preparation subject at Gotest.