NTS Test Nursing Admission 2023 Peshawar Answer Keys Results Check Online
We are hereby glad to inform you that NTS Test Nursing Admission Peshawar Answer Keys Results Online has been uploaded over here.PHSA Provincial Health Services Academy (PHSA) Peshawar had offered admission against Nursing Program respectively. PHSA is disciplined and well organized institution under the health department of KPK. Under this institution four Paramedical Training sub-bodies are functioning in Peshawar,Abbottabad,D.I.khan and Sawat.These Bodies are offering Nursing Course comprising period of 4 years for the students of KPK and FATA as well.Applications are invited for the educational year of 2023. The Academy is open for both Public and Private Sector candidates.
Its short and long Courses give particular advantage of interaction and networking with Government sector particularly Health and also P&D, Finance, Rest of the Provincial as well as Federal Government.It is the only Institution for public sector promotion & Induction courses.All Seats will be deputed on the basis of marks scored in NTS. There are seats which will be given according to marks secured in Nts and qualification.
The Academy is training and producing skilled Health Human Resource: the most valuable asset of the health sector.PHSA is to develop into an internationally recognized center of excellence for education in health leadership and management and become a knowledge hub for health policy planning, health systems development and reforms.
NTS Test Nursing Admission 2023-2023 Peshawar Answer Keys Results Check Online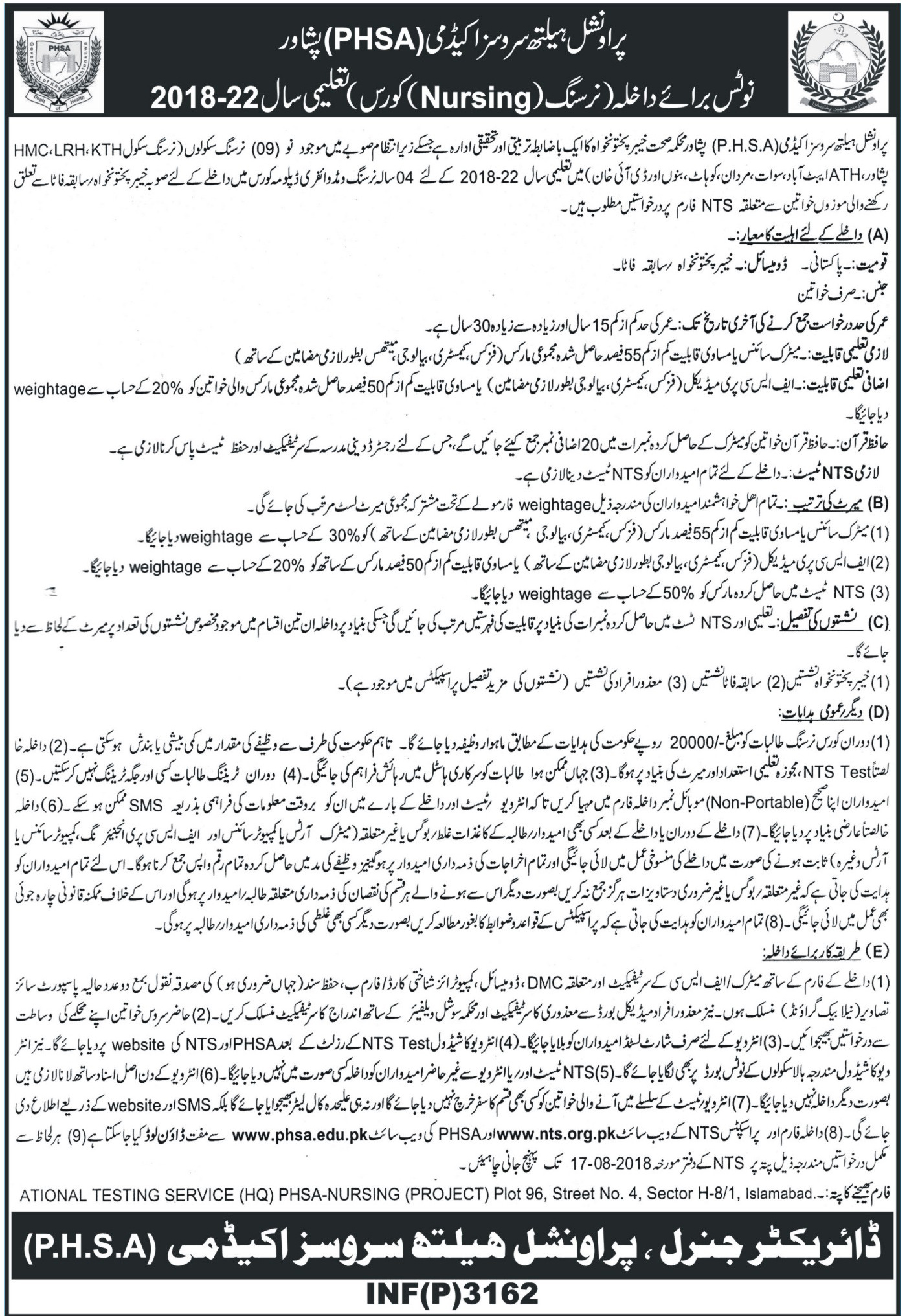 Deadline for the submission of Application for Provincial health services Academy Admission  was 17th August, 2023. Numerous candidates appeared in ths test and secured remarkable score as well.To check your score marks and result online just follow the given link being dispatched over here.For Getting more information about Nursing Merit lists interview and final selection of successful candidates names keep in touch with us as well.Following Criteria shall be followed by the NTS for making merit of the concerned candidates as well.
Additional Educational Qualification:-
FSc Pre-Medical (Physics, Chemistry, Biology) or equivalent with at least 50% marks.
Hafiz e Quran shall be awarded extra 20 marks.
Merit Criteria:-
Matric score shall be calculated with 30% weight-age.
NTS Test Nursing Admission 2023 Peshawar Answer Keys Results Check Online
You Can Learn and Gain more Knowledge through our Online Quiz and Testing system Just Search your desired Preparation subject at Gotest.