Sindh Vehicle Registration Online Smart Cards by Excise and taxation
Its tremendous news for the residents of the Sindh that provincial govt has launched new online system for any vehicle registration.A new smart card system has been introduced instead of older registration books in order to bring innovation as well.Only smart cards will be issued to the citizens for registering a vehicle in spite of old booklets.Such step shall ensure the elimination in forgery, scam, and to facilitate the citizens respectively.These smart cards carry smart features with a host of security and ease of access as compared to older registration books.This encompass a sim card module that can be linked to an electronic reader to verify a vehicle's data such as vehicle owners name CNIC Chasis, engine,registration number,Number of Cylinder,Type of Body, Class of Vehicle,Year of Manufacturing Assessed Annual Tax of RS etc.
Sindh Vehicle Registration Online Smart Cards by Excise and taxation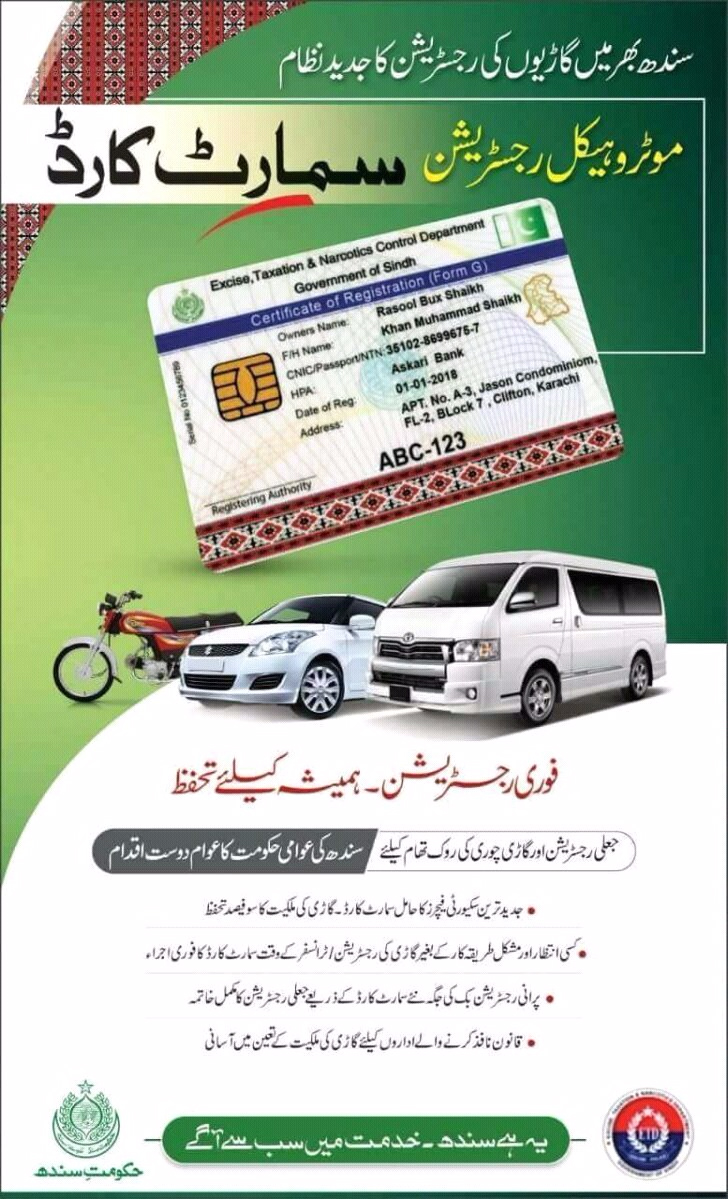 With the help of smart cards, the vehicles could be verified anywhere across the province through special devices. These smart cards are equipped with some advanced security features as compared to traditional registration books.Such process ensure the safety of your asset as well as time saving with respect to verification of vehicle at any check point by the security forces or excise and taxation department as well.
Its very comfort way to carry such portable card than a to a traditional booklet, Now new comers who want to register their vehicles for the first time will be given a smart card in Sindh. The entire process will cost a normal fee. Meanwhile, old registration book owners can also get a smart card by re-registering their vehicles by following new pattern as well.
The Excise & Taxation Department is the main revenue collecting agency of the Government of Sindh which plays a paramount role in resource mobilization. The Department has been entrusted with two functions i.e. Tax collection and Narcotics suppression.
It has the exclusive authority of issuance & administering the intoxicating liquor and other intoxicating licenses.In the province of Sindh following Taxes are being levied and collected through Excise and Taxation Department and the taxpayers in these categories are more than 5 million.
Vehicle Registration involves the recording of a motor vehicle in the official records after due verification. Vehicle Registration is mandatory/compulsory under the law and is essential to prove the ownership of a vehicle. It is also required during the sale of a vehicle and transfer of its ownership. At present there are approximately 2.6 million registered vehicles in Sindh and the number is increasing day by day.
Every vehicle whether commercial or private has to registered, and issued registration number, registration book and number plate. The registration of vehicles and collection of taxes are being effected through computerized system and authorized online National Bank branches linked with main server at Civic Centre Karachi.
Check Online Vehicle Verification Excise Department Sindh
You Can Learn and Gain more Knowledge through our Online Quiz and Testing system Just Search your desired Preparation subject at Gotest.