LUMS SBASSE Subject Test Past Papers 2023 Download Online pdf
Are you planning to get ready to take the LUMS SBASSE subject exam and looking for the LUMS SBASSE Subject Test Past Papers that you can use for practice? Do not look further, for this article will give you all the details you need in order to get LUMS SBASSE Subject Test Past Papers 2023. The LUMS SBASSE Scientific Aptitude Past Papers for Test Download PDF are given in this article. The LUMS School of Engineering and Science Admissions Test is held at Lahore University of Management Sciences, Pakistan It is difficult to pass the written test since it has multiple questions about various topics. This page is intended for applicants who are interested in Top Management Sciences University of Pakistan admissions and require LUMS the SBASSE exam or LGAT Test details.
What is LUMS SBASSE Subject Test?
Syed Babar Ali School of Science and Engineering is all ready to replace the standard subject test with a totally innovative method of assessing the future of its students with a test for science aptitude. LUMS SBASSE stands for Lahore University of Management Sciences Syed Babar Ali School of Science and Engineering. This is an extremely respected institution located in Pakistan that provides graduate and undergraduate programs in engineering and science. The LUMS SBASSE test is a requirement for admission into its undergraduate programs. The test evaluates the applicant's abilities and knowledge in the subject areas of interest.
Why Is It Important to Practice Past Papers?
To prepare for any test is a commitment and hard work for this LUMS exam, the SBASSE Subject Test is not an exception. It is an important aspect of exam preparation because it assists you in understanding the format and pattern of the test helps you improve your time management abilities, and also helps you understand the strengths as well as weaknesses. It's also a great method to get familiar with the type of questions likely to be asked on the exam. Students can discover the strengths as well as weaknesses through studying past exams and analyzing their performance and then improving their performance accordingly.
Where Can You Find LUMS SBASSE Subject Test Past Papers?
The great news is that SBASSE subject test LUMS past exams for the year 2023 have been made easily accessible on the internet. They can be downloaded in PDF format on the LUMS website, as well as other trusted websites offering past papers for you to use. It is important to ensure that the papers downloaded are authentic and not fakes, as fake papers can adversely influence your preparation and impact your performance on the actual exam.
LUMS SBASSE Subject Test Past Papers 2023 Download Online pdf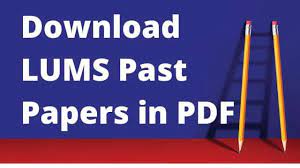 How to Use Past Papers Effectively for Practice?
After you've downloaded and downloaded the LUMS Subject test of the SBASSE previous exams for the year 2023 it's time to make use of them. Here are some suggestions to use the old papers efficiently for practicing:
Create a realistic test environment
Try to recreate the testing environment as closely as you can when you practice the past papers. Find a quiet spot and sit down at your desk, and then count your steps while you try to complete the questions. This will allow you to get familiar with the stress and time limitations of the real exam.
Review your performance
After you've completed every paper Take the time to examine your performance. Find the areas in which you did well and those areas that you struggled. This will help you concentrate your training on the areas that require improvement.
Repeat the procedure
Practice past papers until you feel confident about your ability to prepare. Keep in mind that the more time you spend practicing the more you can do on the real exam.
Some Key Features of Science Aptitude Test
The test will consist of an assortment of multiple-choice tests focused on general understanding and does not require the candidate to prepare thoroughly through a curriculum-based text. The questions could be part of an eight-class set. Questions that are related to:
Methodology and nature of science

Interpreting quantitative data

The ability to comprehend graphical representations of data

Understanding causal relations in natural phenomena as well as scientific Literacy (general knowledge)

The art of and the skill of reasoning, both qualitative and quantitative , and the deduction of one concept to the next

The appreciation of scale, and dimensions

Appreciation of approximation; significance (statistical) and uncertainty

Ability to understand a technical text
SBASSE Subject Test pdf Past Papers
The Suleman Dawood School of Business (SDSB) is one of five schools at LUMS which offer a range of undergraduate and graduate programs in economics and business. To be eligible for admission to SDSB students must pass the LUMS SBASSE Subject test. In this blog we will talk about the importance of previous papers and also provide download links for past LUMS SBASSE Subject Test Papers. If they are prepared and practiced students can improve the chances of passing taking the LUMS Subject Test for SBASSE and reach their goals of studying at SDSB.
LUMS Scientific Aptitude Test Preparation
Through solving past assignments students will discover the strengths as well as weaknesses, and take action to improve them. To prepare for LUMS Scientific Aptitude Test Preparation students must first access the previous papers. You can locate past papers in the LUMS website or in a variety of exam preparatory books available. It is suggested that students try at least five or six years of old papers in order to acquire an in-depth knowledge of the test's format and the type of questions they will be asked. Students should also establish the time limit and complete the previous papers within the time limit in order to be familiar with the pressure of the exam. Past papers are an important source of information for students studying to take the LUMS SBASSE subject exam.
LUMS SBASSE Scientific Aptitude Test Sample Papers
Summary:
The LUMS SBASSE test is an essential part of the admissions process for the undergraduate courses. It can help you get ready for your test, and boost your chances of passing. The SBASSE subject test LUMS previous papers for 2023 are available on the internet, and it's crucial to use them efficiently to practice in an environment that simulates the exam as well as analyzing your performance and then repeating the procedure until you are confident about the way you prepare.
FAQs
Are the LUMS SBASSE subject test past papers for 2023 available online?
Yes, old papers are on the internet in PDF format.
Can I use counterfeit past papers for practice?
No, it's not recommended to use fake papers since they could negatively affect your preparation as well as your performance on testing.
How can I use past papers effectively for practice?
You can utilize past papers efficiently by creating an test environment, and then analyzing their significance.
You Can Learn and Gain more Knowledge through our Online Quiz and Testing system Just Search your desired Preparation subject at Gotest.