UET Taxila Admission 2023 Online Apply Last Date Merit List
The latest admission notice issued by the University of Engineering & Technology, Taxila is about MSc admission fall 2023 in various disciplines including Software Engineering, Computer Science, Telecom Engineering, Civil Engineering, Industrial Engineering, Engineering Management, Basic Sciences, Mechanical Engineering, Computer Engineering and Electrical Engineering. The university has invited applications from all the individuals who are interested in seeking admission in any of the MSc degree programs (full time/ part-time) being offered at the moment. For this, the complete information about UET Taxila Admission its eligibility criteria, registration process and schedule has been issued, all of which can be found below on this page.
There is a UET Central campus situated in Lahore which also runs other campuses such as UET Taxila campus Faisalabad, NWL, KSK, RCET and UET Peshawar campus. The UET Texila Admissions information here. Here you will find admission information regarding the UET Taxila merit list 2023 Entry test deadline and fee structure for all courses and jobs are provided below. If you were accepted into this engineering school, then you'll be confident because it's difficult to gain admission to highly sought-after PEC and HEC accredited institutes.
UET Taxila Admission 2023 Last Date
Admission Last Date: 15 September 2023
According to the announcement, intermediate or equivalent to Physics Mathematics, Physics, or Computer Science shall be acceptable only for Computer Engineering, Software Engineering, Telecom Engineering, Computer Science. UET Texila Entry Test Preparations are also provided from this platform.
The latest announcement from the University of Engineering and Technology Taxila for postgraduate and undergraduate admissions in 2023. Only applications submitted online are accepted. Go to the closest HBL authorized branch in order to obtain an Entry Test Token at the cost of Rs.550. Anyone who wants to be admitted to any of the Bachelor degree courses offered by the university must meet the following conditions.
UET Taxila Admission 2023 Online Apply
Admissions to the Taxila Engineering University are open for engineering core programs such as BS, BCS, MS, MSC, up to PhD degree programs. Candidates are welcome to apply prior to UET Taxila Registration 2023 last date for the course they prefer. Because UET Lahore which is the principal campus of the university, has an entrance examination through the NTS, the national testing system NTS, UET Taxila campus is also a part of the same test for freshmen. Following that, the UET Taxila merit list, 2023 will reveal the top students in error-free ways.
Apply for UET Taxila Admission 2023
UET Taxila FEE Structure 2023
Registration Fee 2,000
Security Fee (Refundable) 1,000
Security fees for Hostels (Refundable) 1,000
Mess Security fee (Refundable) 1,000
University Library Security (Refundable) 1,000
UET Assessment or Re-evaluation Fee: 2,000
UET Taxila Admission 2023 Online Apply Last Date Merit List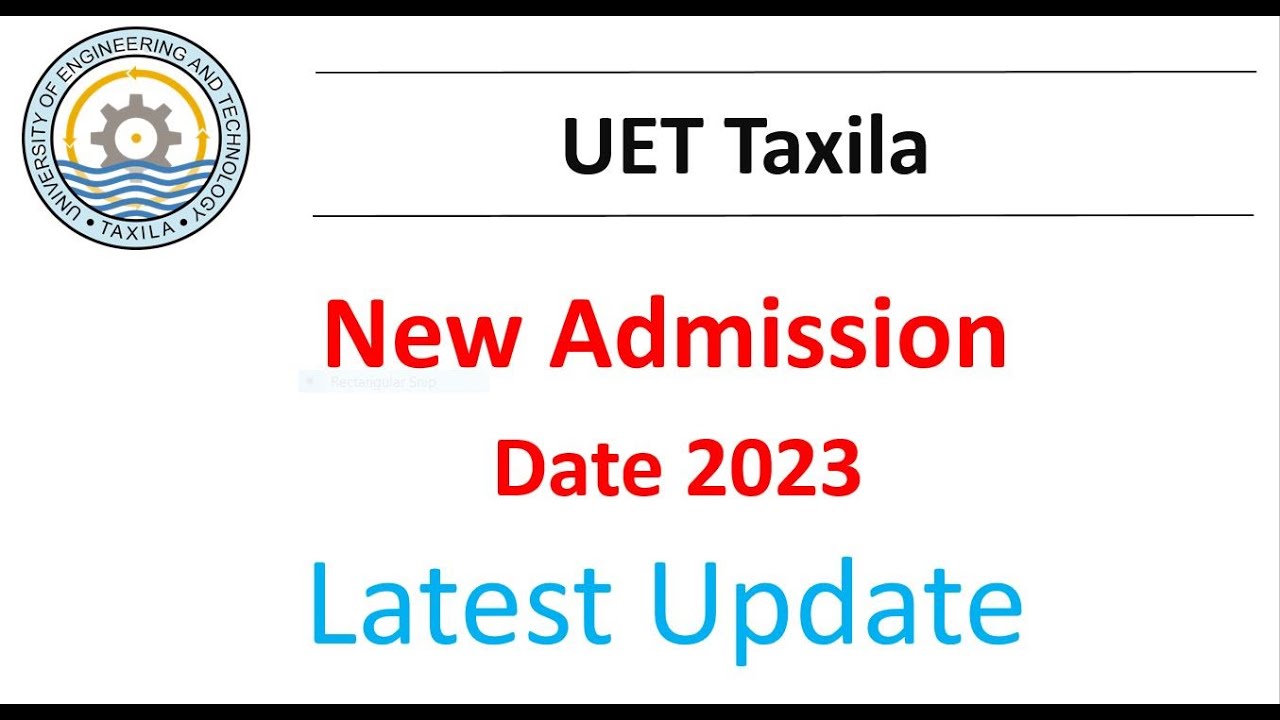 Candidates who are interested are advised they are advised that University Of Engineering & Technology, Taxila, Taxila admissions are open. You are able to complete the application as soon as possible. Details on the application process, eligibility criteria, admission schedule, and contact information are provided in the institution's official announcement below.
UET Taxila Merit List 2023
Anyone who is interested in applying is able to download the admission registration form and fee structures and announcement from this page. It is available below. The merit lists of the entry test as well as waiting lists are available at the same time at the entrance at EUT Taxila.
UET Taxila is offering admission in 2023 for PhD programs. The program is available for Phd in the field of engineering management, mechanical engineering civil engineering, industrial engineering electronic engineering, electrical technology, engineering in computer science telecom engineering Software engineering, Mathematics and Computer Science at the University of Engineering and Technology Taxila. The announced schedule 03-09-2023 is the last day for the submission of applications.
About UET Taxila
UET Taxila Admission with incredible growth in enrollment of students in the 1970s, a plan to establish additional campuses at UET Lahore was developed. UET Lahore was developed. Each calendar year UET Taxila Admission is announced in the months of June/July. In the wake of that, UET Taxila was organized in the year 1975. It was active for three years at Sahiwal.
The University of engineering and technology UET Taxila announced admission and fee Schedule session 2023 in the wake of admission tests held in different centres. UET Taxila inviting Admission Applications for undergraduate Engineering, Technology and Non-Engineering programs. If you hold an FSC Degree and 60% marks, then you are eligible to apply on the internet.
In 1978, the College changed its site at Taxila. The College was operating under the administrative supervision of UET Lahore until October 1993. This month, it received its first charter as a self-sufficient university as per The Taxila Order of the UET Taxila 1993. As of now, the total number of postgraduate and undergraduate students exceeds 2000. Its UET Taxila main campus is located on the outskirts of Taxila situated at about 5km from Taxila city. The University of Engineering and Technology (UET), Taxila was established in 1975 and after achieving the highest standards of quality education, now it has become one of the most preferred universities by the students for further studies after intermediate especially in the field of engineering.
Eligibility Criteria for UET Texila Admission
In order to become eligible for admission in any MSC program offered by the University of Engineering and Technology Taxila, the following criteria must be fulfilled by all applicants.
Candidate should have a BSc Engineering or equivalent qualification in the relevant Branch of Engineering with a minimum of 60% marks or CGPA 2.5 out of 4.00.
The applicant will have to pass the NTS GAT General test with a minimum of 50% cumulative score.
For admission in MS (Applied Math & Computer Science), the applicant should have a degree of BS Math & BS Computer Science or MSc Maths & MSc/ MCS Computer Science.
Schedule almost remain the same every year while we will inform you further about the latest terms and conditions and time schedules. All students who want to seek admission in the UET Taxila MSc program can apply for their desired discipline online from the official website of the university while they can also be obtained from the university campus. The last date of submitting the duly application forms is June 2023 after which the further selection procedure will begin.
The UET Taxila has now invited applications for admission in various programs so all the interested candidates who want to join one of the most well-recognized universities of Pakistan, should apply immediately. The students who want to get admission in various program must apply online before the closing date. Incomplete and late submission forms are not entertained. For the facility of our visitors, here we have provided the complete admission process including the eligibility requirements and admission schedule.
Documents Required for Admission
Photocopy of Bank challan deposited in HBL, UET, in Taxila branch
Photocopy of receipt of Documents
Photocopy of Domicile
Photocopy of candidate ID card
Parent's income certificate
Photocopy of father CNIC card
Photocopy of all educational certificates
2 Passport size photographs
UET Admission 2023 Program Offered
It was originally established as a sub-campus of the University of Engineering and Technology, Lahore but later became a chartered university in 1993 and now it has one sub campus of its own which is located in Chakwal. UET, Taxila currently offers Bachelor, Master and Doctoral degree programs in disciplines in Engineering.
The programs offered at the University of Engineering and Technology, Taxila are in the following fields:
Software Engineering
Electronic Engineering
Computer Engineering
Telecom Engineering
Civil Engineering
Electrical Engineering
Mechanical Engineering
Electronics Engineering (Chakwal Campus)
Mechatronics Engineering (Chakwal Campus)
According to the announced schedule, admission in bachelor programs and PhD admissions will start during October 2023. So keep visiting us as the new admission schedule will be available here on this page immediately after its announcement by the official authority. All the candidates who want to seek admission in Bachelor, Master or PhD programs can download the admission form from the official website of UET, Taxila without any trouble. Once downloaded, you just have to fill the admission form, attach the required documents and then submit it to the relevant department till due date.
So along with having good marks in HSSC, make sure that you also prepare well for the entry test as only then do you have a good chance of getting admission. As the number of seats available is very few as compared to the number of applicants so the competition level is extremely high. Once the test and interview process has been completed, the list of finally selected candidates will be displayed.
Fee Structure
| | |
| --- | --- |
| UET Taxila FEE Structure 2023 | Rupees in PKR |
| Admission Fee payable at the first time | 2,000 |
| Registration Fee | 2,000 |
| Security Fee (Refundable) | 1,000 |
| Hostel Security dues (Refundable) | 1,000 |
| Mess Security fee (Refundable) | 1,000 |
| University Library Security (Refundable) | 1,000 |
| UET Evaluation or Re-evaluation of thesis Fee | 2,000 |
ANNUAL UET Taxila RECURRING FEE STRUCTURE 2023
9Tournament Fee for University
50
Annual University Magazine Fee
75
Student Medical Fee
250
UET Taxila Tuition Fees
UET Per Subject Fee
2,000
Research Fee
Payable after the stipulated period for every month
1,000
How to Apply UET Taxila Admission Online?
Follow these procedures to apply for admission to UET Taxila online:
Visit the admissions page of the UET Taxila website at admissions.uettaxila.edu.pk.
To sign up with UET Taxila, click the "MY UET" button.
When registering, please include the following information:
Number on CNIC/Form B without dashes.
Create a password.
ECAT Roll No. (Not necessary for BS Physics and Mathematics).
Use the login information you registered with.
Enter your contact information, relevant choices, academic background, and preferences.
Examine your application and submit it online.
Until you're ready to submit the final printed application form, you may login in again to see or modify your data after you've submitted the application.
Print the application form, sign it, and include the Declaration Form (F-0) from the Prospectus together with the necessary paperwork.
Send the printed application form and other required paperwork to UET Taxila's Admission Office by mail or in person.
UET Taxila Contact Number
Address: University of Engineering and Technology Taxila
Phone: Number 051- 9314216-23
Fax: 051-9047420
UET Taxila official website: www.uettaxila.edu.pk/
FAQs About UET Taxila Admission
Are admissions open for students of UET Taxila?
University Of Engineering & Technology, Taxila Taxila, has announced that admission is open for the 2023 session. Applications are being accepted from Local students, Pakistani students from overseas and International students to apply for the undergraduate bachelor's degree programs.
What test is needed to be passed for UET Taxila?
He must have completed his Intermediate (Pre-Engg) Exam, including Physics, Mathematics, and Chemistry, from the Board of Intermediate and Secondary Education of Pakistan or an equivalent exam accepted by the University.
What is the method by which UET merit is determined?
There was a 70% mark for intermediates in the past, and 30 percent ECAT added up to a score of 100. In addition, in 2018, the UET Merit Calculator changed to 25% of Equivalent or Matriculation scores. 45% of Intermediate.
Does UET Taxila accept ECAT?
Candidates can obtain registration forms here, as well as on the official website of the University. ECAT is required to gain admission into UET Taxila and all other institutes and campuses affiliated with the University.
You Can Learn and Gain more Knowledge through our Online Quiz and Testing system Just Search your desired Preparation subject at Gotest.