SECCAP Admission Form 2023 Apply Online Last Date
Sindh Electronic Centralized College Admission Program SECCAP Form 2023 Online Registration Admission Procedure and important dates are mentioned here. The government of the Sindh School Education and Literacy Department has opened an online admission portal for the students of 9th and 10th classes. Applicants can get an online CAP Form and register for the admission to Public colleges of Karachi, Sindh. SECCAP Admission Online Registration Last Dates and Admission Form submission procedure mentioned here. Also, get Examination details and exams dates. The examination board will announce the dates of matric and intermediate exams. S E-Centralized College Admission Program regulates all admissions at in Colleges, Degree Colleges, Post Graduate Colleges which are working under the supervision of the College Education Government of Sindh.
SECCAP Form Last Date
SECCAP Online Registration Portal is opened for admission in Public Colleges of Karachi Sindh. Students who are interested to get admission to any Public college through the online Admission portal must hurry. Because after the last date of application submission you will not be able to apply online.
How to Apply For SECCAP Admission 2023
Follow the steps given below.
Click on the link given below.
Select your Matric Province.
Enter CNIC No/B-Form No.
Write Ninth Roll Number.
Put your Matric roll number.
Select your passing year.
Select vaccinated status.
Click on the proceed button.
Complete the Application form.
Upload required documents.
Fill in your personal data.
Submit the application form.
Required Documents for SECCAP Admission Form
SSC Certificate
Provisional Certificate/Detail Marks of Last Exam.
Character Certificate of school.
Domicile Certificate.
Self / Father CNIC /B-Form.
Colored Photographs.
Eligibility Criteria SECCAP Admission Form
Students are securing good marks in technical education, O level, or equivalent.

Students who took their last exam five years before 2023 can also be eligible.

The provision of supplementary results waiting for students cannot permit until 2023 admission.

Students who have passed their SSCor O level or an equivalent level in Arts cannot consider for Science subjects.
seccap.dgcs.gos.pk Application Online 2023
To apply to determine your qualifications for your chosen field at a specific college, first purchase the admissions form along with the brochure at every branch at Sindh Bank in Karachi. Make sure you fill out the state following the directions on the application form. Then return it to the department that prescribes at Sindh Bank of Karachi along with the required documents and the payment of 60/-. 60/-,
Photocopy of the marking sheet/ Admit card.

G.C.O (O Level) Students must attach a copy of their marking sheet

Students of the Technical Education Board should be able to attach a copy of 9th and 10th-grade result sheets.

Candidates with the complete equivalent to Metric O' Level, Metric, or S.C.E. through other countries will complete a requirement for admission to IBCC Islamabad.
Get SECCAP Form Download Online
Online check for the Sindh Centralized College Admissions Program Form 2023. The form is also accessible on the internet. SECCAP admission is taken from government officials of the Sindh Government. You can download the application form for access here and then fill it out. Fill out and download your admission application. Send it along with the Rs.challan fee at any branch or office of Sindh Bank. Online applications are available to students who have completed their matriculation and are seeking admission for admission to universities in Karachi.
SECCAP Admission Form 2023 Apply Online Last Date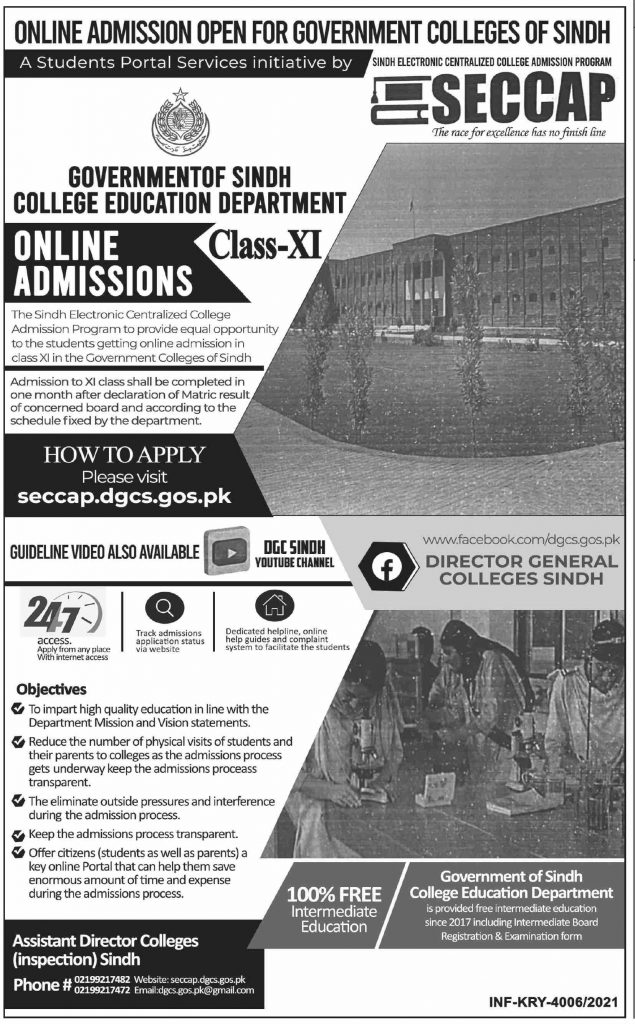 SECCAP Admission Form Apply Online 2023
Students click the online provided link to get SECCAP Form 2023 for Online Registration. Enter your 9th Class Roll No and Matric Class Roll No in the provided box. Then select the passing year and click yes if you are vaccinated. If you are not vaccinated then click no. Next click the proceed button and get the online Form. Fill the form and submit it online. Apply Online
CAP Form Online Registration 2023
CAP Form Online Registration Portal is open for admission in 10th class and intermediate. Now students can apply for admission sitting at the home. School Education and Literacy Department Government of Sindh has taken a great step to provide comfort to students belonging to Karachi. Here we have provided Sindh Classes Online Test for the preparation of Entrance Tests.seccap dgcs gos pk online registration on this page.
CAP Form Registration Online
Centralized Admission Policy regulates admission in all public colleges, degree colleges, and postgraduate colleges. It has introduced SECCAP to provide admissions in matric and Intermediate 1st year and 2nd year in Public colleges. Students can apply for admission online from home. After the successful submission of applications, online merit lists will display. Also, get the Sindh Medical Colleges Admission form over here.
www.seccap.dgcs.gos.pk Merit List 2023
Applicants who applied for admission can check online merit lists of selected candidates. Those students who meet the eligibility criteria and fulfill the requirements will be selected for admission to the public colleges of Karachi. Here we will upload online Merit lists of all colleges of Karachi.
SECCAP Form 2023
Download the SEC-CAP Form 2023 to complete the online registration to gain admission into Karachi universities and colleges. The SECCAP Form 2023 Karachi (also called SECCAP admission online form 2023 ) for engineering and medical perform (Female and male) is available from here. It is essential to apply the cap 2023 online to be accepted to Karachi colleges. The date for the cap form 2023 will be shortly announced here.
SECCAP CAP Admission Form 2023 Online
Pre-Engineering (Male) Form
Commerce (Female) Form
Pre-Engineering (Female) Form
Home Economics Female Admission Form
Pre-Medical (Male) Form
Humanities Male Admission Form
Pre-Medical (Female) Form
Humanities Female Admission Form
Computer Science (Male) Form
Computer Science (Female) Form
Commerce (Male) Form
Sindh Electronic Centralized College Admission Program 2023
Follow the steps for the application. Once completed, send the form to the branch that you have been directed to from Sindh Bank of Karachi with all the required documents as well as the Rs. voucher. 60/-. Education is also a witness to these changes. Students who have successfully passed this exam S.S.C 2023 or equivalent supplementary exam 2023 will not be able to take part in the session 2023 under SECCAP.
SECCAP Admission Form 2023 Online
To apply online for Sindh E-Centralized College Admission Program admissions, visit the link below, or open your browser recap. docs.gos.pk and complete the application form. When you open the link, choose your Matric Province, and Matric Board, complete the form with your CNIC or B-form number 9th roll no 10th roll number and include your pass mark. Once you've filled out the form, click on the next button. The form for the cap 2023 colleges in Karachi published by the Sindh government is now available to download.
Contact Number and Address
Contact Number: 02199222230
Email: [email protected]
Address: 2nd Floor Building # 6, Sharah e Kamal Ata Turk, Sindh Secretariat, Karachi
Official Website: seccap.dgcs.gos.pk
FAQ SECCAP Admission
Make more informed decisions about diagnosis and optimal treatment.
Place emphasis on the pathologist's role to the center of patient care.
How can I apply for college in Karachi?
To apply online for Sindh E-Centralized College Admission Program admissions, click the link below or go to your browser seccap.dgcs.gos.pk and complete the application.
What are cap forms?   
Form 2023 of the CAP for Online Admission Result – Previously called Centralized Admission Policy (CAP), the form's name modify into Sind Electronic Centralized College Admission Program.
You Can Learn and Gain more Knowledge through our Online Quiz and Testing system Just Search your desired Preparation subject at Gotest.