JSMU Pharm D Admission 2023 Registration Online Last Test Date
Jinnah Sindh Medical University JSMU has announced Pharm-D admission schedule 2023 on official website. JSMU invites application forms from eligible candidates for Pharm D Admission 2023. Interested candidates who want to get admission in offer program prospectus can be downloaded from JSMU official website www.jsmu.edu.pk. After filling the online forms students submit online along with all required documents and processing fee (voucher Rs. 2500 only in any branch of HBL). Jinnah Sindh Medical University JSMU Admission 2023 apply online last date provided on here. Here you can able to get online admission forms, eligibility criteria, last date submission forms, entry test dates, roll no slip, result and final merit list of selected candidates for admission.
JSMU Pharm D Entry Test Important Dates
Announcement Date: 8th November 2023
Last Date Submission: 29th November 2023
Entry Test Date: 11th December 2023
JSMU Pharm D Admission 2023
Currently Jinnah Sindh Medical University officially announced Pharm D Admission Schedule 2023. If you want to get complete information related offer admission then you reached on right page. We will give you compete details about JSMU Pharm D Admission 2023. Those students intermediate pre medical has been clear with a minimum of 60% marks and having domicile of Sindh province then you eligible for admission.
Pharm D Admission 2023 JSMU
JSMU is a modern public sector university using innovative solutions for teaching and learning in medical education. We are an institution that thrives on the dedication and commitment of its faculty and staff. Our human resources are a successful combination of youth and experience where we are training a new generation of faculty and administrative staff.
JSMU Pharm D Test Date 2023
According to official notification Jinnah Sindh Medical University JSMU has announced Pharm D Admission entry test dates on website. All those students who have domicile of Sindh Province and apply for admission they must appear in entry test on 11th December 2023. UOS MEd, Pharm D Annual exams Date sheet 2023 get online from here.
JSMU Pharm D Admission 2023 Registration Online Last Test Date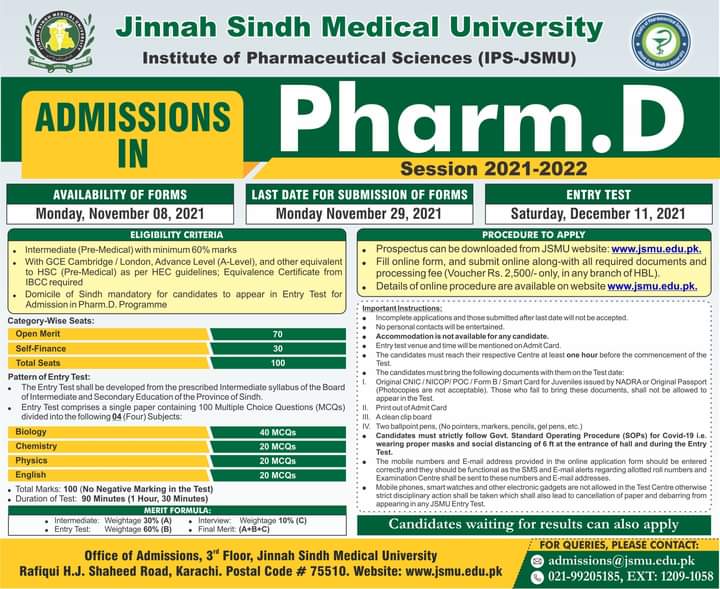 Pharm D Pattern of Entry Test
The entry test shall be developed from the prescribed intermediate syllabus of the board of intermediate and secondary education of the province of Sindh. Entry test comprises a single paper containing 100 multiple choice question divided into the following four subjects.
Biology: 40 Mcqs
Chemistry: 20 Mcqs
Physics: 20 Mcqs
English: 20 Mcqs
Pharm D Entry Test Roll No Slip 2023
Students who apply for admission and eligible for written test can downloaded entry test roll no slip online on here. University upload eligible candidates roll no slip on official website. students must login on website and get their roll no slip before test date. Also students able to get Pharmacy Councial of Pakistan PCP recognized universities list in Pakistan.
JSMU Pharm D Entry Test Result 2023
Jinnah Sindh Medical University formerly known as Sindh Medical College. JSMU gained university status in June 2012. The university has various academic departments that grant both undergraduate and graduate degrees. In addition, students can be admitted into a number of degree-granting masters or Ph.D. programs.
JSMU Pharm D Seats Distribution
The university total seats distribute in two categories details mention below.
Open Merit: 70 seats
Self Finance: 30 Seats
Total Seats: 100
You Can Learn and Gain more Knowledge through our Online Quiz and Testing system Just Search your desired Preparation subject at Gotest.